Rocky Point now has a good amount of fine dining restaurants.  Over the years fine chefs have come from other cities in Mexico and the United States.
We have  Pan Y Vino owned by Chef  Luca Appendino who has the only Italian restaurant with an Italian Chef.  Pan Y Vino is on the top of Whale Hill overlooking the city and Sandy Beach.  Besides fabulous food, you will be treated to some of the most beautiful sunsets anywhere.  Beside wonderful Italian dishs, steaks and seafood,  you may opt to eat at the downstairs restaurant where you can get great wood fired pizza.  Chef recently opened a to go pizza place on Simon Morua, next to Portugal Insurance.  They have a full bar and very nice wine selection.
Chef Mickey's Place is owned by Chef Mickey Medina and it is tucked away in a center on Blvd. Freemont just east of Sinaloa.  Chef Mickey is from the South of Mexico and came to Puerto Penasco from Las Vegas.  Being a very talented chef, he has specialty dishes nightly and does a great job with steaks and fresh seafood from the Sea of Cortez.  He also caters events in your home or business and does a very professional job.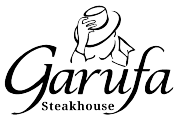 Garufa Argentine Steakhouse is only a few years old but has a great following. It is between the Sonoran SPA and the Sonoran SEA, just off the Sandy Beach Road.  It is a chain from the south of Mexico but is locally owned and this is the 1st one that is not in a large city and is in a tourist area.  Specializing in Prime steaks, it also has other steaks as well.  They also have a nice offering of local shrimp and sea food dishes.  Their service is excellent and the staff is knowledgeable about the food as well as the great wine selection.  They offer several wines from the Valle de Guadalupe  which is near Ensenada.
Another great place with great food and views is Mare Blu which is located where the home port is to be and Wrecked at the Reef.  It has been around for quite a few years and is always consistent in quality and service.
There are 2 new entries in the restaurant scene are MOO Steakhouse in the Malecon with a view of the Sea of Cortez and Grapes and Barley also located in the Old Port area which features a roof top patio providing great sunset views.  Both of these places are getting rave reviews for both food and service.
Not to be missed is El Tapeo, which has a large selection of wine from the Valley de Guadalupe.  Here you can dine inside or on one of the 2 outside patios, one which features seating in large wine barrels. It is located in front of Laos Mar Best Western Hotel.  They have excellent food and service as well as view of the Sea of Cortez.
In the bar scene, Manny's Beach Club still has the following it did years ago and is located right on the water.  Down on the Malecon, you have Tequila Bar and Shark Bite which prove to be fun places to hang out.  In this area you will find BOO BAR which is right on the water and offers great drinks and good food.  If you are looking for a bar where the locals go, stop in at OD's.  They are located near the end of Calle 13.  It is a tiny little place, but a great place to get an ice cold beer and bar food.  In the Mirador area, the Pink Cadillac is going strong.  Besides Manny's, The Pink Cadillac was one of the 1st bars in the Mirador.  Also in the Mirador area is Capone's Bar and they are known for their pizzas.  Soon they will have the first Micro Brewery in Rocky Point.  So watch for their grand opening in a few months.  Out on Sandy Beach you also have Collin's Cantina for food and drink and live music.
There are so many small great mom and pop restaurants to go to in Rocky Point as well as other local bars.  Drive around town or check the ads in the local monthly newspaper and have a great time.